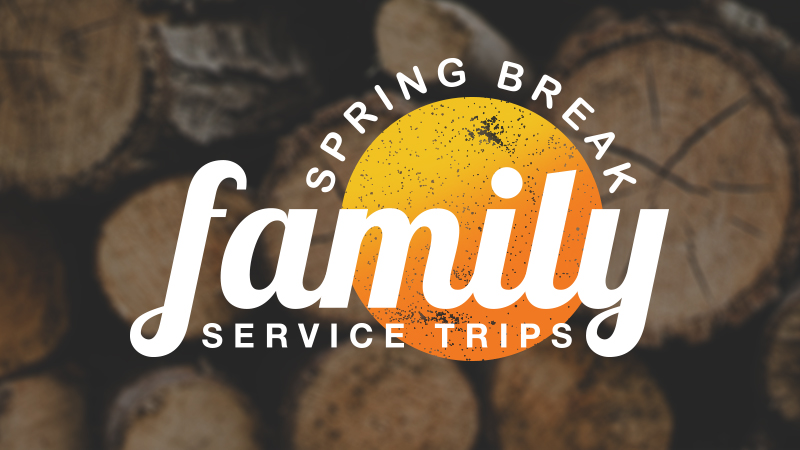 03 Dec

Spring Break Family Service Trips 2019

Don't just have a Spring Break . . . have a family ministry experience. Bring your family to our 2019 Spring Break Family Service Trip in Branson, Missouri. March 9–17, two teams of Stonebriar families will travel to the Kids Across America camp near Branson to help prepare the camp facilities for a summer of ministry to inner-city kids. Past projects have included: clearing brush, landscaping, carpentry, power washing, and cleaning—all the fun stuff that city kids in North Texas don't usually get to do!

This will be a time to serve and work, but also a time of spiritual refreshment. Pastor Owen and his wife, Sarah, will be your hosts for days of work and evenings filled with silly games, worship, and family-friendly devotionals. It's a wonderful opportunity to make memories and make a difference together in the beautiful Missouri forest.

Spots are limited, so make your plans to join us for one of our two trips: either March 9–13 or March 13–17 at KAA in Branson. If you have any questions, send us an e-mail: ML@stonebriar.org.
Key Dates

Trip Dates: March 9–17

Team #1: March 9–13
Team #2: March 13–17

Required orientation meeting: Sunday, February 24 at the Stonebriar campus after second service

Cost: $250 per family

Includes

lodging in a cabin for your family
meals from dinner on your arrival date through breakfast on your departure date
all supplies and activities

Travel arrangements and cost to from KAA camp are your own responsibility

Who Can Serve: Stonebriar families with children age 8 and older
How to Join Us:

Complete your application by February 15
Attend the required orientation meeting on February 24
Meet us at the KAA camp near Branson, Missouri on the evening of either March 9 or March 13