Listen to Message
We're sorry, the audio for this message is not available at this time.
Memorial Service Honoring Dennis A. Brady, Sr.
Charlton Hiott • July 8, 2020
In Loving Memory of Dennis Arden Brady, Sr.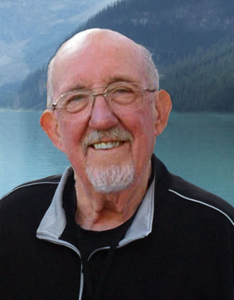 Dennis Arden Brady, Sr. went home to be with the Lord on June 23, 2020. He was born August 27, 1937, in Perkins, Oklahoma, to Reverend Arlis A. Brady and Hylah Inez Brady. Dennis was preceded in death by his parents, a brother Ted Watson Brady of McKinney, Texas, and a brother-in-law, Harrell Kennedy, of Tulsa, Oklahoma.
He is survived by his wife, June Brady, a daughter Denise Elliott, her husband Steve and granddaughter, Samantha of Mansfield, Texas, and a son Dennis, Jr., (Chip), his wife, Allison, and granddaughters, Alexis and Taylor of Gladwyne, Pennsylvania, and his sister Sherry Kennedy of Tulsa Oklahoma.
Denny was controller for Eljer Plumbingware, Inc. for thirty-six years. After retirement he worked at the Frisco RoughRiders Ball Park as an usher for eighteen seasons. Early on in those years he started looking out for the players families—finding better seats for them, soothing the babies when they were fussy, patting the heads of those children who stood beside him. They loved Mr. Dennis and he loved them. He would look for children in his section that seemed to need a lift and would give them a game ball. Everyone he met was special and he made them feel special.
As a young boy of six, Denny's mother gave him a dollar to sing at church. The Bradys loved to sing. They would harmonize in the car on the way to church and of course, Denny sang tenor. June and Denny met in the choir room of Calvary Baptist Church in Tupelo, Mississippi, where he invited her to hear him and the Cal-valiers Men's quartet practice. This quartet sang at the Southern Baptist Convention two different years. June often says she fell in love with Denny's voice before she fell in love with him. After his brother, Ted, moved to McKinney, Texas which dissolved that quartet, the Good Intentions quartet was formed. Denny served as a deacon and also served for a year as Interim Music Director at Calvary Baptist Church. He played on the Men's Church Softball League team as pitcher. They won the Church State Soft Ball League Championship one year. In 1982 Denny, June and their family moved to Butler, Pennsylvania, where he served as an Elder in The Community Alliance Church, and sang in a quartet called WKSD.
After retiring in Frisco, Texas, Denny and June were charter members of Stonebriar Community Church, where they joined the Adult Choir and the Celebrations Singers. As he sang to the audience of "One" (The Lord), Denny always raised to his toes when he hit the high notes. He remained faithful with his singing until his voice began to fail him and he had to give up singing, the one thing he loved so much. For nine months, Denny could only whisper. Thus, started his battle with his health. After two vocal cord surgeries his voice improved slightly. He served as Treasurer of the Marathon Sunday School Class, and helped serve the Midweek Dinner. Denny was also a member of The Gideons.
As he battled illness at the end of his life, Denny continued to be a good and faithful servant. He displayed his love for The Lord, and his care and love for others as he witnessed to doctors, nurses, healthcare workers, and all others around.
The Brady family would like to express their deepest appreciation for the overwhelming support given to them, especially June, during all of Denny's illness and beyond. Thank you most of all for your many prayers on behalf of our family.
Connect with Us