FMSC Big Pack Canceled
Sadly, due to current weather conditions, we must announce the cancellation of our packing events for Feed My Starving Children.
This ministry is dear to our hearts, and we are deeply disappointed that we cannot gather to serve together this week. However, our priority is the safety of the FMSC team and all volunteers from our church and community, so we prayerfully agreed that canceling is the wisest decision.
Here is a statement from Feed My Starving Children regarding this decision:
Due to current weather conditions in the Dallas area, The Big Pack Frisco team has made the difficult decision to postpone the Feed My Starving Children MobilePack scheduled for Thursday, February 24–Saturday, February 26 at Stonebriar Community Church. Unfortunately, road conditions have not sufficiently improved to allow the safe delivery of supplies, event set-up, and travel of the volunteers to accommodate the scheduled packing sessions. The Big Pack Frisco team is evaluating options to reschedule this MobilePack and will communicate the new event date as soon as it has been scheduled.
Please continue to pray for our church family and community as we weather the storm together. If you are interested in other ways to support Feed My Starving Children, please visit fmsc.org for information on giving and serving at the permanent packing site in Richardson, Texas.
Help Us Provide Meals for Kids Around the World
On February 24–26, Stonebriar will once again partner with Feed My Starving Children (FMSC), a non-profit Christian organization committed to feeding God's children in nearly 70 countries around the globe. Each meal is hand-packed by volunteers like you, so sign up to serve with us and impact the world from right here in Frisco.
Volunteer to Pack Meals
Sign up to hand-pack meals that will be shipped to kids in need worldwide. Ages 5 and up are welcome to serve, so register your family and friends to volunteer together. Please note that you must arrive 30 minutes prior to your shift time to check in and prepare to pack.
Thursday, Feb. 24
6 to 8 p.m. (Special Needs Night)
Friday, Feb. 25
10 a.m. to 12 p.m.
1 to 3 p.m.
5 to 7 p.m.
8 to 10 p.m.
Saturday, Feb. 26
10 a.m. to 12 p.m.
1 to 3 p.m.
3:30 to 6 p.m. (event tear-down)
More Ways to Serve
Help us keep everything running smoothly during the Big Pack weekend by serving in one of our support roles! We need many volunteers to help in the following areas.
Parking Team: Direct traffic in the parking lot as volunteers arrive for their packing shifts and help them find their way to the check-in area. The Parking Team is the first group to welcome volunteers and give them a great experience.
Check-In Team: Greet volunteers as they arrive to pack and help them check in for their shift. Once a check-in period is complete, the Check-In Team will also have the opportunity to help with other tasks as needs arise during the packing event.
Crew: A variety of roles are available on the Crew, from assembling boxes to doing heavy lifting in the warehouse. All Crew members will also help clean and reset the food-packing areas between packing shifts. (ages 16+ only; lunch or dinner provided; eligible for service hours)
Serve at Our Special Needs Night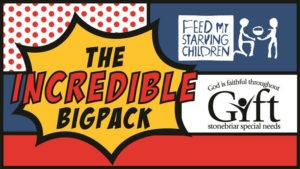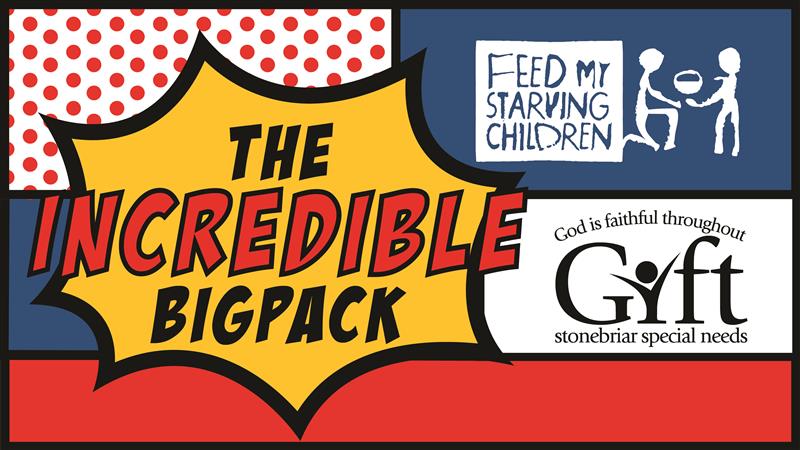 The Incredible Big Pack, held on Thursday, February 24 at 6 p.m., is a packing shift exclusively for those with special needs and their families. This event has special modifications to make it sensory-friendly so everyone gets a chance to help end hunger.
To learn more and serve during our special needs night, please contact Ministry Leader Darla Hill at darlah@stonebriar.org.
Location and Check-In
Stonebriar Community Church is located at 4801 Legendary Drive, Frisco, Texas 75034.
Plan to arrive and check in 30 minutes before your packing shift.
Park on the west side of campus off Parkwood Boulevard (view campus map).
Enter Building A through the doors under the stained glass window to check in. Volunteers will greet and direct you to the orientation area.
Donate to Feed My Starving Children
Another way you can help is by giving. Each meal from Feed My Starving Children costs less than 25 cents to make, so any gift goes a long way in the fight against world hunger. Learn more about the mission of FMSC and give online on their website.
If you have any questions about Missional Living or want help deciding where to start, please reach out to us at ml@stonebriar.org or by calling 469-252-5242. We look forward to meeting and serving alongside you.