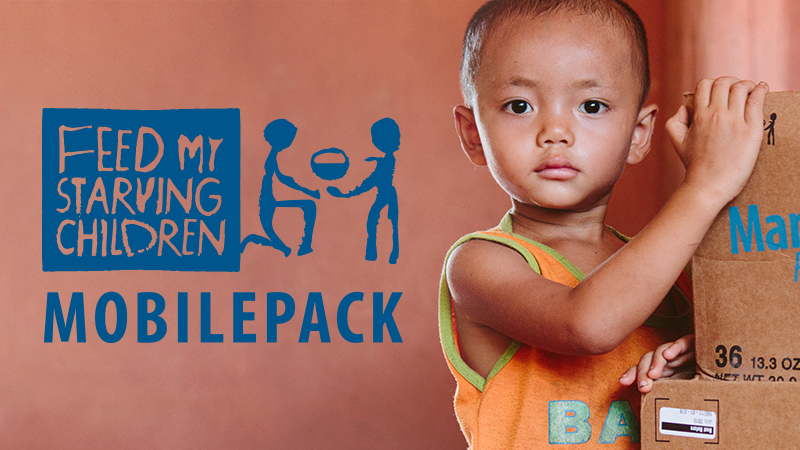 31 Jan

Feed My Starving Children
Last year, we packed
1,028,160 meals ...


enough to feed 2,816 children for a year!

On February 28–29, Stonebriar will once again partner with Feed My Starving Children (FMSC), a non-profit Christian organization committed to feeding God's children in nearly 70 countries around the world.

Volunteers are needed to help prepare and hand-pack 1 million meals specially formulated for starving children. This is a great annual opportunity to serve as an individual, family (ages 5 and up), or small group. Childcare is not available for this event.
2020 Packing Shift Times
Thursday, Feb. 27
2 p.m. to 5 p.m. (event set-up)
Friday, Feb. 28
10 a.m. to 12 p.m.
1 p.m. to 3 p.m.
5 p.m. to 7 p.m.
8 p.m. to 10 p.m.
Saturday, Feb. 28
8 a.m. to 10 a.m.
11 a.m. to 1 p.m.
2 p.m. to 4 p.m.
4 p.m. to 8 p.m. (event tear-down)
Join Our Crew
If you've served at the BigPack Frisco before and are ready for new challenge, join the Stonebriar crew or parking team! Instead of packing meals, you will help with a variety of tasks that help keep the event running smoothly. Choose the time slot and role that fits your schedule and interests, and sign up to help us make a difference!
The "Incredible" Big Pack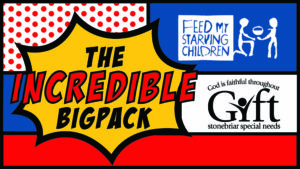 The "Incredible" Big Pack is a night added to our annual Feed My Starving Children weekend. Thursday evening will be exclusively for those with special needs and their families; it will be more sensory-friendly so everyone gets a chance to help end hunger.
Location and Check In
Stonebriar Community Church is located at 4801 Legendary Drive, Frisco, Texas 75034. Park on the west side of campus off Parkwood Boulevard.
To "check in", enter through the doors under the stained glass windows. Volunteers will greet and direct you to the orientation area.
What Will I Be Packing?
Feed My Starving Children (FMSC) has worked to develop a food mixture that would be easy and safe to transport, simple to make with only boiling water, and culturally acceptable worldwide.
With the input of scientists from major food companies in the Twin Cities area—including Cargill and General Mills—FMSC developed MannaPack-Rice, a formula consisting of these ingredients:
Rice, the most widely accepted grain around the world.
Extruded soy nuggets, providing maximum protein at lowest cost.
Vitamins, minerals, and a vegetarian chicken flavoring to give growing children the critical nutritional elements they need
Dehydrated vegetables for flavor and nutrition. Packaged in small pouches, each provides six highly nutritious meals. While the formula was designed to save the lives of severely malnourished and starving children, the ingredients also improve the health, growth, and physical well-being of children who are no longer in immediate danger of starvation. A single bag of food provides meals for six children.
Our goal is to pack up to 1,000,000 meals.
2019 Facts and Figures
Together, we packed 1,028,160 meals!
2,240 boxes were shipped to Convoy of Hope in Haiti
2,520 boxes were shipped to Cross Catholic Outreach in Guatemala
2,816 children will be fed for a full year!
If you have any questions, please reach out to Jean Allen at jeana@stonebriar.org.