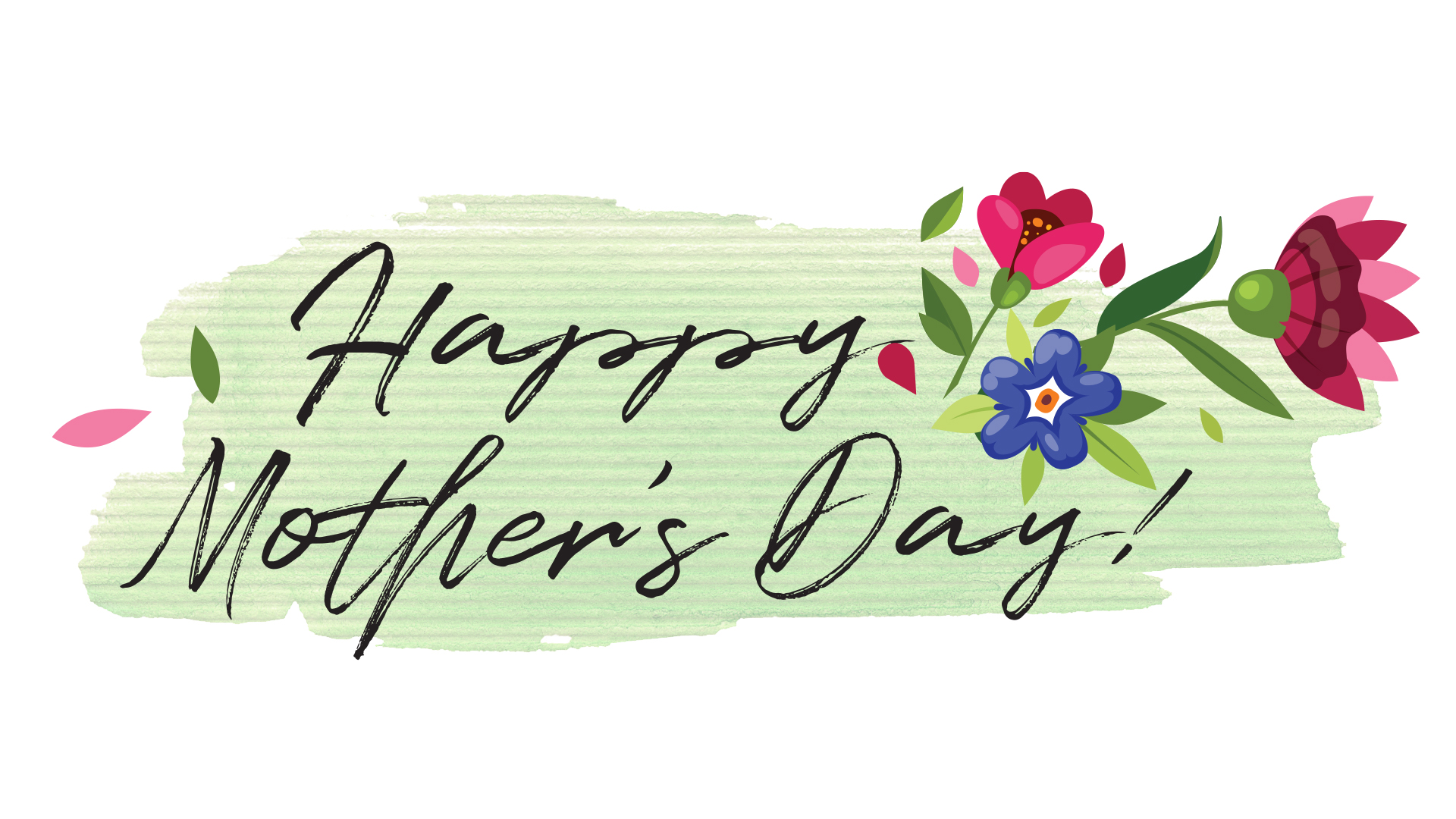 06 May

We Love Our Moms
"There is no more influential or powerful role on earth than a mother's." Pastor Chuck Swindoll
To celebrate Mother's Day, Stonebriar staff members shared what we love about our moms and why we are so grateful for them! Mothers, grandmothers, and mother-figures have an immeasurable impact on our lives, so we pray you'll take the time to thank the moms in your life this week, too!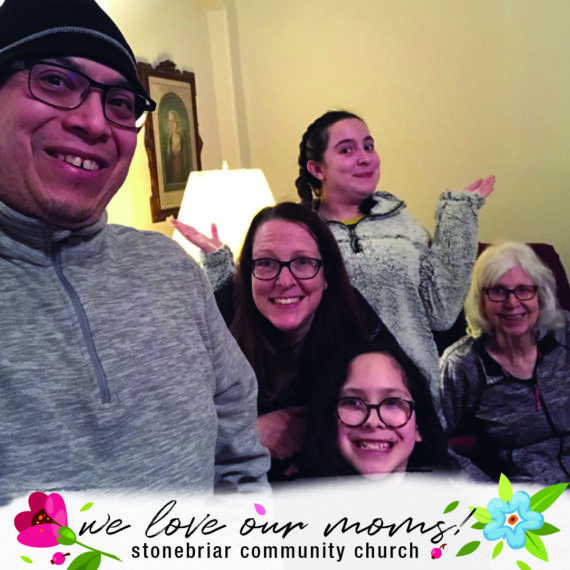 David Ake
"Since my mom passed away when Becca and Lizzie were very young, Jamie's mother, Carol, has had to do double duty as Gran. She fiercely loves Jesus and is a rock of encouragement to our family. She is the landing pad for all the nieces and nephews to come and stay as they begin to launch into high school and life! This picture was her staying up with us on New Year's Eve to welcome in the new year. (She's usually in bed with an episode of Jag or Matlock by 9 PM). Thanks, Gran, for all your love and support!"
David Ake, Associate Pastor of Marriage Ministries
Sandi Altstaetter 
"Listening—a gift we give to others that communicates our love for them. My mom gave my brother and me this gift, along with her example of quietly trusting God. I'm grateful for her unassuming ways and steady love. Moms, your unseen acts of love are written on the hearts of your children. Happy Mother's Day!"
Sandi Altstaetter, Music Associate–Children's Choirs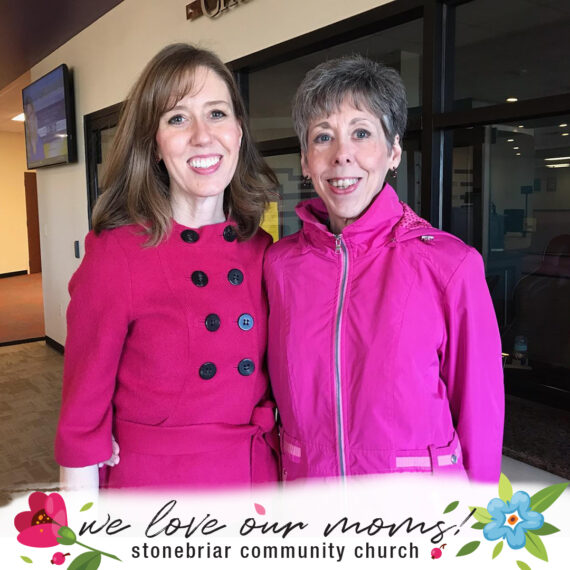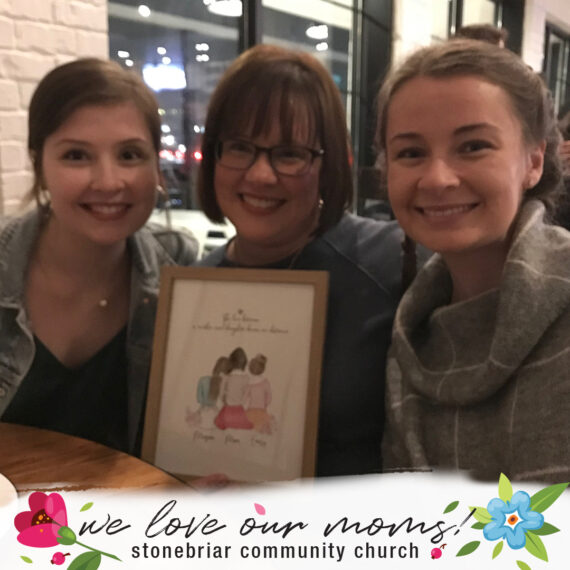 Michelle Felt
"Happy Mother's Day! This is a picture of my girls at my birthday party in January. Emily is 24 and Megan is 21. Being a mom has shown me how much I need God's grace. Being a mom isn't always easy, but God has certainly used it to grow me in so many ways!"
Michelle Felt, Ministry Leader of Stonebriar Women
Darla Hill
"This is mom, a.k.a. Grandma Cookie, named because she bakes delicious snickerdoodles, peanut butter M&M cookies, and my favorite—double chocolate chip. Her pie crust is so flaky it takes another paragraph to describe. She's baked dozen of cookies for art class that look like paint palettes. Grandma Cookie cared for her brother who had Down syndrome; I guess Junior gave me my first experience loving those with special needs, unconditionally. He was the coolest, most popular, lawn–mowin' dude in Seymour, Iowa . . . maybe anywhere. My mom loves unconditionally, and I've relied on that love more than you'll ever know. I guess I'll give her a call tonight."
Darla Hill, Ministry Leader of Special Needs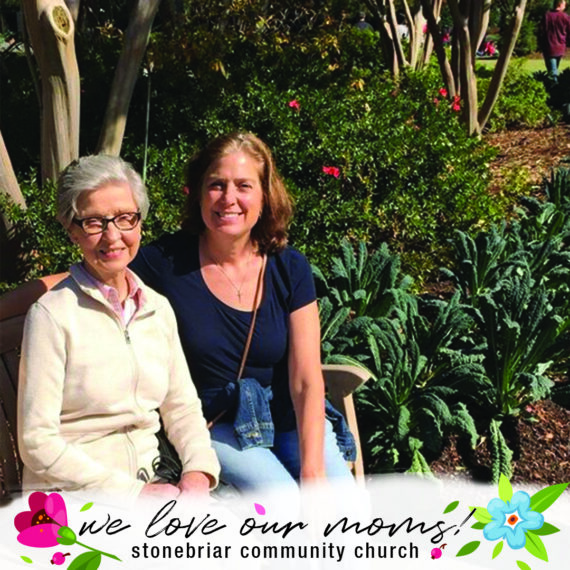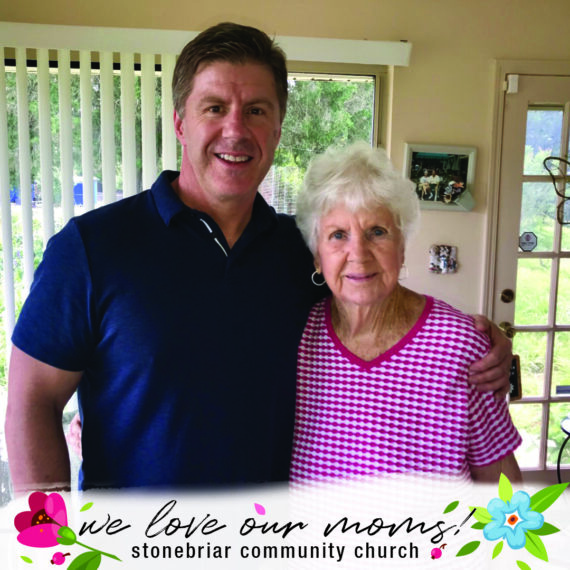 Charlton Hiott
"I love my mom! She's such a blessing to me, our family, and all who know her. Each year, I grow more amazed at her life's story and attitude. She's a master gardener, voracious reader, and frequently sends handwritten notes and cards to us and others! She decorates for every holiday, has a major sweet tooth (that she passed on to me), and enjoys old school country music. My mom is truly one of my heroes, and I love her!"
Charlton Hiott, Senior Associate Pastor of Shepherding Ministries
Susan Jacobson
"Throughout my life, my mom has taught me strength, faith, humor, and resilience. She not only taught me how to stop and smell the roses, but how to plant them and help them grow. In this season more than ever, I now realize the profound impact her solid presence has been both to me and my children, and am so thankful for her guidance and friendship. Happy Mother's Day, Nana, a.k.a Mama, a.k.a. friend. You are so loved."
Susan Jacobson, Director of Creative Ministry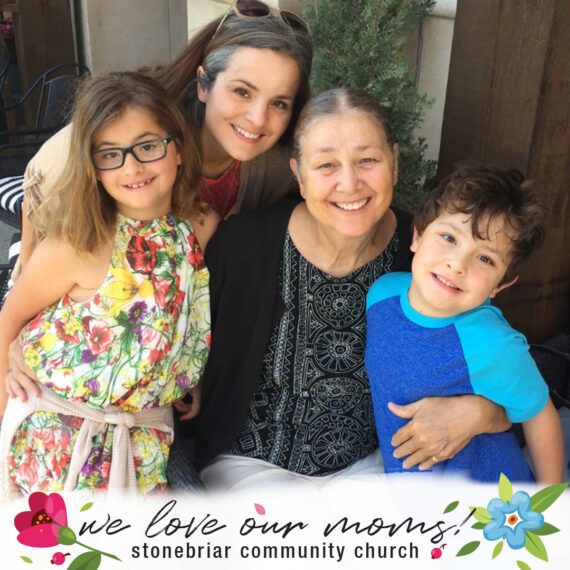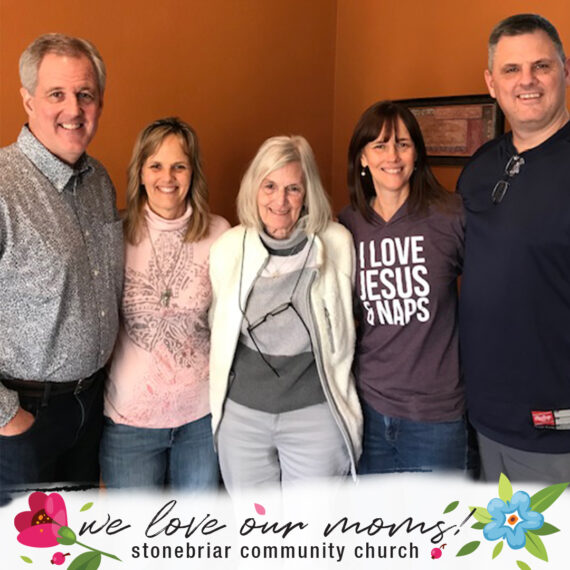 Molly Jennerich
"This is a picture of my siblings with my mom, Helen, after she moved from Pennsylvania to Texas this year. She raised the four of us, almost single handedly, and taught us the importance of family. I don't know too many families with siblings who are as close as mine. We survived our share of challenges as kids, and I think it brought us closer together. My mom taught us all to be responsible, work hard, and lean on each other. I am blessed to have her living only a few blocks away from me and am grateful for all the memories we share."
Molly Jennerich, Ministry Leader of Student Events
Nathan Kocurek
"I'm amazed by my mother's resilience in the face of adversity and her determination to find joy in the midst of difficulties. Through all of life's ups and downs, she's never lost her sense of humor. Through her own journey, she has gained a wise perspective, and when combined with her special mother's insight into my soul, she speaks with a voice of clarity when matters of the heart seem confusing and chaotic. I love you, mom—Happy Mother's Day!"
Nathan Kocurek, Associate Pastor of High School Ministry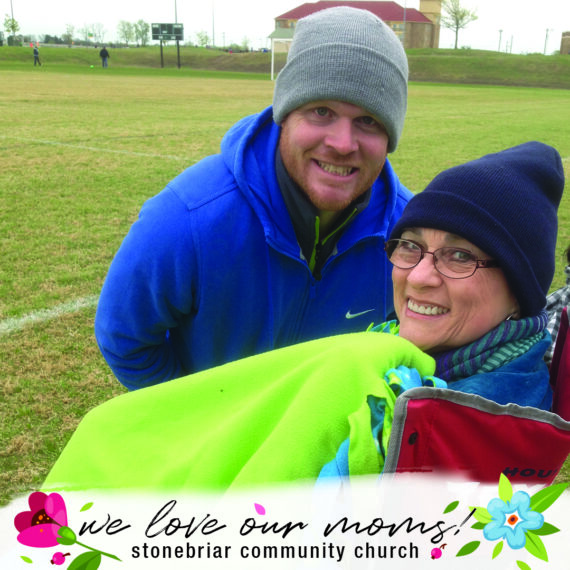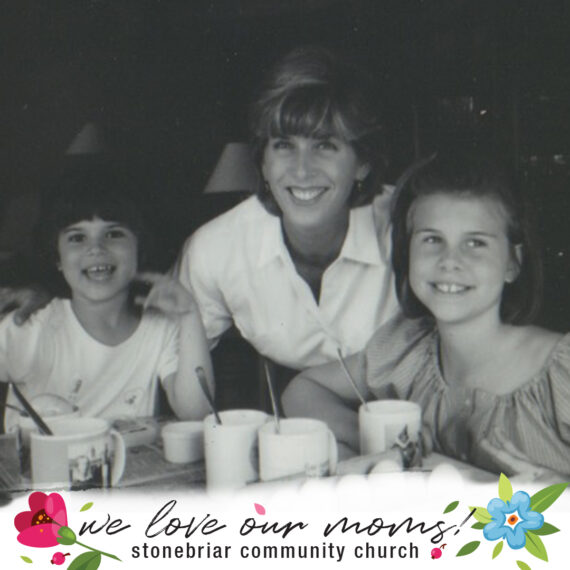 Debi Kruder
"Mother's Day isn't for the faint of heart. It can be a day full of emotion from joy to sorrow and everything in between. On this Mother's Day I want to thank this beautiful lady, Karen Kruder. She lovingly raised my two beautiful stepdaughters, Carson (left) and Maggie (right). There is not a day that goes by where her memory is not close and I enjoy hearing stories of this lady I never knew but honor. I am blessed to have received the gift of her children. This Mother's Day, let's remember those moms that have gone before us that will forever have a place in His story."
Debi Kruder, Ministry Leader of Awana
Lauri Lanier
"My mom and I had a horrible relationship and she kicked me out of the house when I was 15.  My mom died when I was 19, and my dad died when I was 25 or 26, so it has been a long time, and I've done lots of counseling. For me, it was important to realize that I could choose people to replace the place parents were supposed to fill. God did put people in my life that modeled what unconditional love looked like, and I am so grateful. Both the woman and the man who stepped into those roles for me have passed, too, so sometimes I feel untethered.
I think I've been a good mom, though. We have two wonderful sons from my and John's marriage. They are incredible, godly young men who sent me flowers the other day with a card that read: Just because! Everything we go through teaches us something—sometimes it is what not to do; sometimes it is what to do. Luckily, I found some people who showed me what to do!"
Lauri Lanier, Ministry Leader of Care Ministries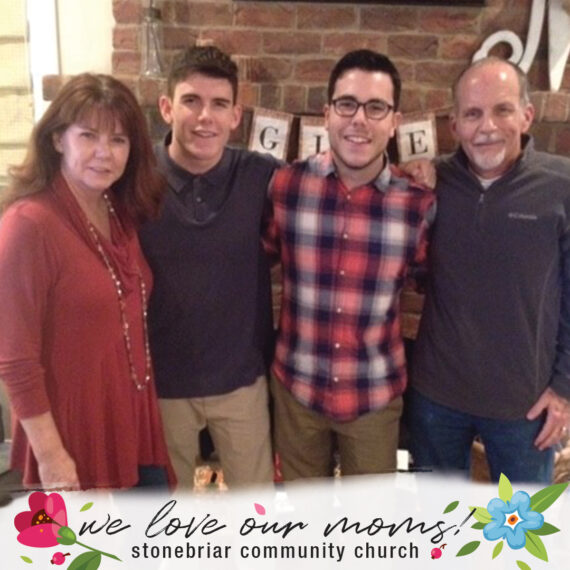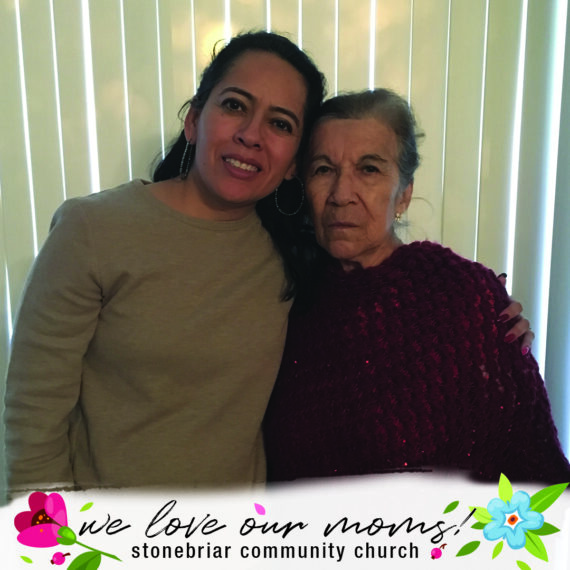 Angélica Olivares
"My mother is an amazing woman of faith and strength. She has taught me many things, but the most important thing I learned from her is that God exists and He deserves my reverence. I am blessed to have her as my mother. ¡Feliz Día de las Madres!"
Angélica Olivares, Ministry Leader of Stonebriar en Español
Melissa Renner
"In every season of my life, I've learned who Jesus is in new ways. I had godly examples in my family growing up, and I pray my children will follow Jesus in all their days, as well. Mother's Day reminds me of the gift I've been given by raising Jake and Mallary and knowing He loves them more than I ever could. My prayer for them is that His plans would shine through them and they will carry His Gospel out further than I ever could."
Melissa Renner, Pastoral Leader of Stonebriar Women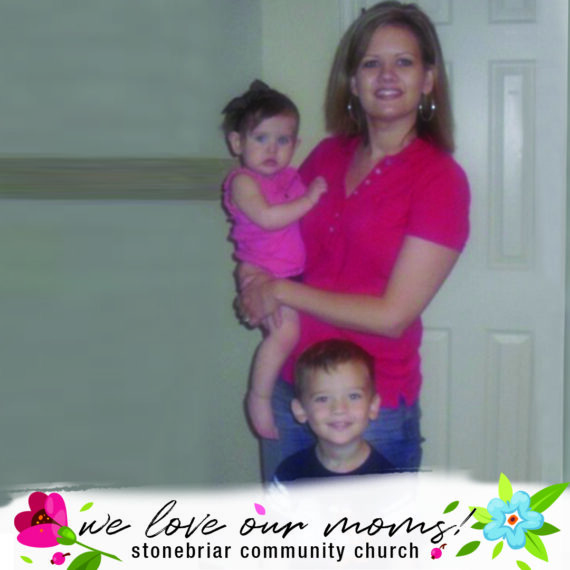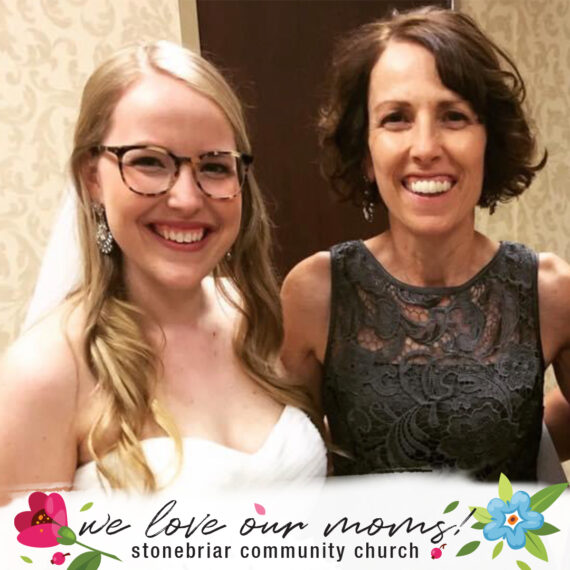 Patricia Salcedo
"My mother is the most joyful person I know. She exemplifies the godly woman in Proverbs who laughs without fear of the future, and her love has always been a light in my life. As I get ready to welcome my first child into the world this summer, I'm so thankful for my mother's example—for her kindness, for her faithfulness to God and His Word, for her generosity and humility, and for all she sacrificed to raise me well. Happy Mother's Day, mom. I love you now and always!"
Patricia Salcedo, Assistant Director of Creative Ministry
Donna Seeley
"Raising Hannah and Luke has been the most rewarding job I have ever had. Becoming a mom has also shaped my walk with God and shown my desperate need for Jesus. I have a better understanding of God's all-encompassing love. I did not become a Christian until I was 27 years old, so it has been pure joy to see my children put their faith in Christ at an early age."
Donna Seeley, Music Assistant–Children and Youth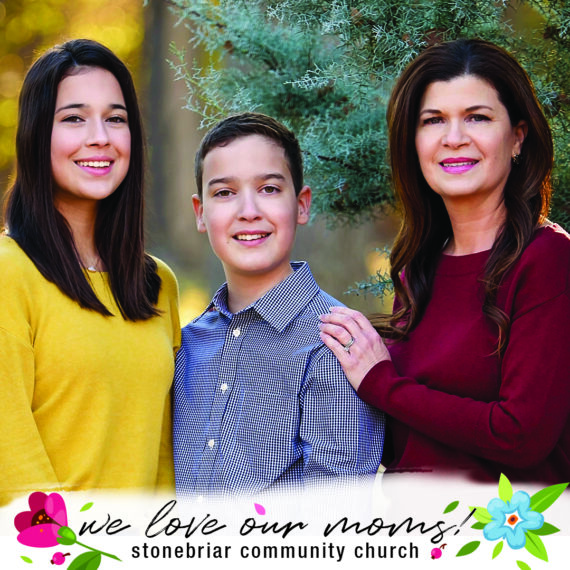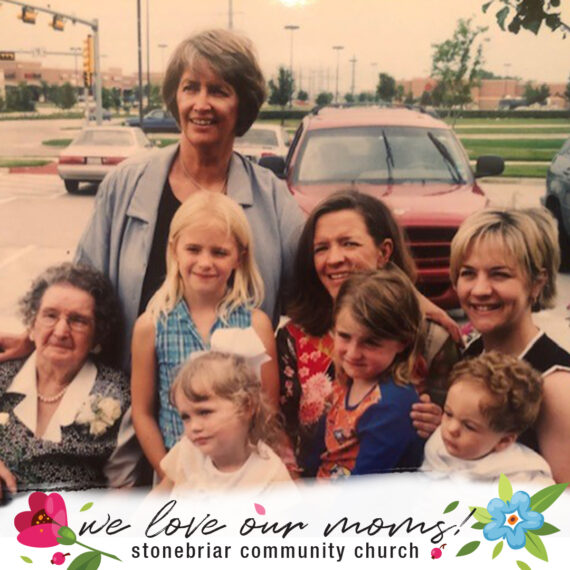 Chrissy Smith
"I was close to both of my grandmothers and cherish their love and devoted prayers on my behalf. They were not perfect, but that is what I loved. My mother is very special, and I love that she is her own person and cares deeply for Jesus. I am a mother to Chandler Grace and Brock! I love them with all I have and God provides the rest. Happy Mother's Day!"
Chrissy Smith, Pastoral Leader of Stonebriar Women
Stephanie Stück
"Growing up, my mother made raising four kiddos look easy. I never saw her look tired, frustrated, or overwhelmed. She was up before me every day, doing her devotions, making meals, cleaning, doing laundry, helping with homework . . . all with the joy of Jesus flowing out of her. With all that she was doing at home, she was still taking me to all my practices and attending all my performances and games. She was always there for me. She was my encourager. She always reminded me that God is in control, no matter how bad things may be.  She taught me to celebrate the little things. To this day, I am still trying to figure out where she hides her superhero cape!"
Stephanie Stück, Lead Director of Communications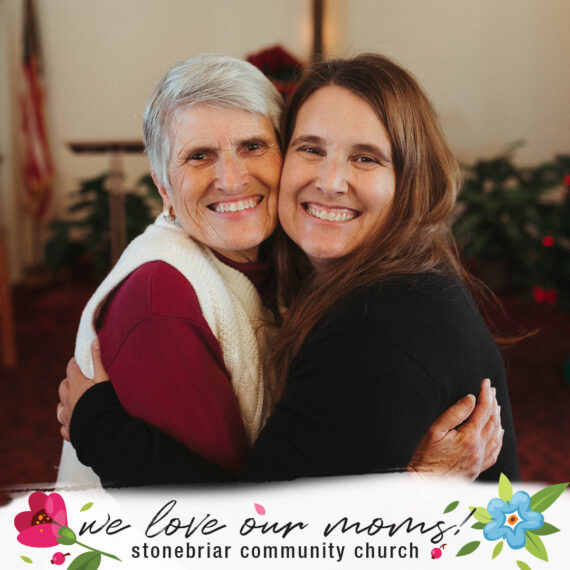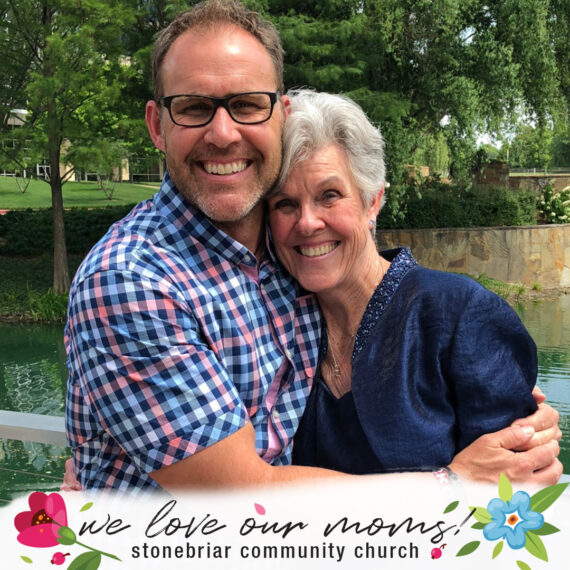 Keith Tyler
"I am thankful for my mom because she loves with authenticity and has always been there for me."
Keith Tyler, Pastor of Missional Living
Abbi Vance
"My mother, Katherine Endsley Bryant, was my "Mama" . . . my best friend. I was her only child, and I was born on Mother's Day! Mother named me "Abbigail" after her father, Abb Frank Endsley. Mother and I were very close throughout my life. She lived with my husband, Kim, and me the last two years of her life. She joined Daddy in Heaven in 2001 after being a widow for 16 years. I still miss her every day and will always appreciate the Christian upbringing that she gave me. I love you, Mama."
Abbi Vance, Ministry Assistant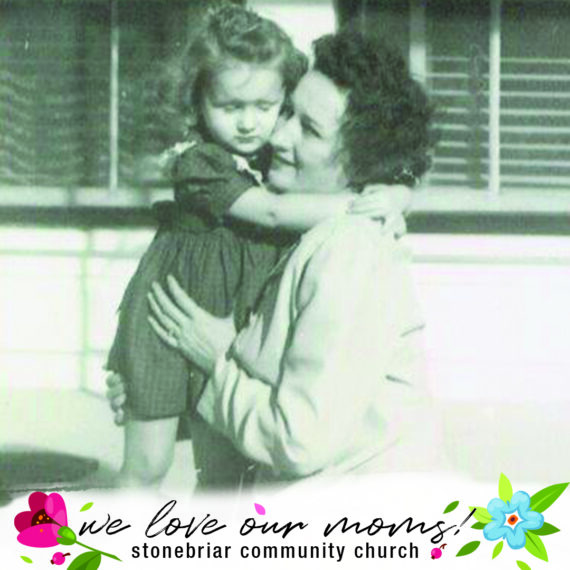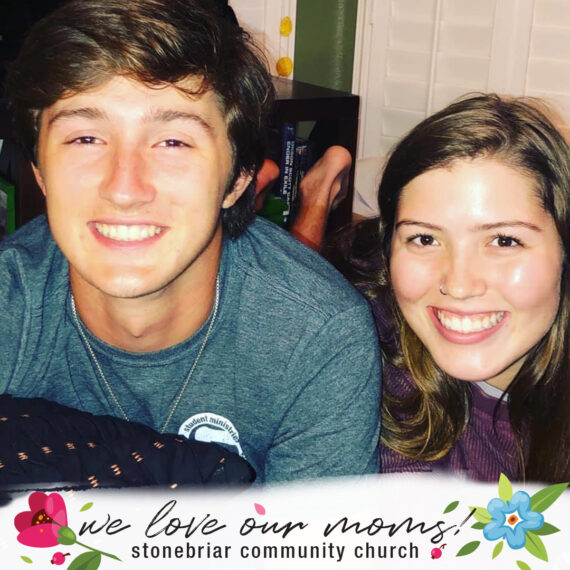 Linda Wylie
"Happy Mother's Day, sisters!!! These two make Mother's Day and every day special for me!! Becoming their mom made God's love more real to me. They have been key instruments in my sanctification process, vessels of his grace, made me die to self daily and rely more fully on God's peace, wisdom and power. They inspire and fuel my prayer life! Sister Grace and Brother Foster, blessed to be called mom by you!"
Linda Wylie, Ministry Leader of High School Ministry