Virtual Clubhouse Video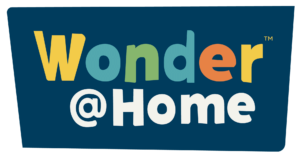 A woman named Rahab hides two Israelite spies as God prepares the way for His people to live in the land He promised them.
Wonder Truth:
God Prepares the Way
Scripture:
Joshua 2
Word of Wonder
Work together this week on memorizing this verse!
God keeps His promises forever.
—from 1 Chronicles 16:15
Wonder About It
What is one thing you are learning about God and the wonder of His big story?
How do you see God's story as part of your own story?
Worship @ Home
Listen to the Problems and Promises Worship@Home Spotify playlist for worship songs you can play anytime.
Family Conversations
Families, use this to prompt conversations at the table, in the car, and anywhere else your family experiences life together.
What do you think it means to say God prepares the way?
Do you think God always knows what is ahead? Why or why not?
What are some things that have been difficult for our family?
Do you think God has both prepared the way and been there along the way for those things? Why or why not?
When God prepares the way, what does that tell us about who He is?
Walk it Act It Move It
Spy Hunt
In God's big story, the spies went to check out the land God had promised them. On their journey, they experienced the unexpected, yet God remained faithful and prepared the way to guarantee their safety. With your kids, read the story from Joshua 2 and then take them on a Spy Hunt through your city or neighborhood!
Make a checklist and let kids try to find the items listed below. For each item, encourage kids to think about how it connects with the Bible story. Consider making fun binoculars using tape and empty toilet paper tubes to use on the Spy Hunt!
| What to Find | Story Connection |
| --- | --- |
| Something Red | The scarlet red cord Rahab hung in her window |
| Rope | The rope the spies climbed down to safety |
| Something Purple | The king of Jericho |
| Roof | The location in which the spies hid when soldiers searched for them |
| Gate | The reason the spies had to escape through a window (the gate was locked) |
| Window Near a Roof | The window in Rahab's house used for the spies to escape |
| Strong Wall | The famous walls of Jericho, as well as Rahab's house built into the wall |
Interactive Prayer
Prayer Grid
There are people you know who need your prayers. From God's big story, we know God wants to prepare the way in whatever situation they are facing. As a family, brainstorm a list of names of people who need prayer. Use paper or construction paper to cut out 4″x4″ squares. Write the name of each person on a paper square and tape each square to a wall in your home. Think of as many people as you can and cover the wall with names. Every day this week, let each person in your family pick a name from the prayer wall, and as a family, offer prayers to God before dinner or in the car or on the way to school for those people. Encourage kids to pray specifically for their needs, using their names. God hears our prayers and He always keeps His promises. He will go before them and prepare the way.
In Early Childhood ministry, we teach basic biblical truths in ways little hearts can understand, from birth all the way through kindergarten. Our desire is to have children learn in fun and interesting ways how much God loves them. The video and resources on this page are designed for parents to experience this at home with their children.