Virtual Clubhouse Video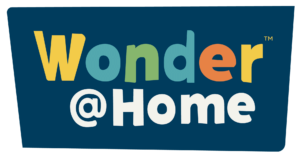 Nicodemus visits Jesus seeking answers to his questions. Jesus loves Nicodemus so much He tells him how to have eternal life
Wonder Truth:
God Sent Jesus Because He Loves Me
Scripture:
John 3
Word of Wonder
Work together this week on memorizing this verse!
God so loved the world. He gave His one and only Son.

John 3:16 (NIRV)
Worship @ Home
Search for Be WonderFILLED Worship@Home playlist on Spotify for worship songs you can play anytime.
Family Conversation Starter
Families, use this to prompt conversations at the table, in the car, and anywhere else your family experiences life together.
What is God's love for us like?
How do we know God loves us?
Describe what it means to be a good friend.
What does it mean to make Jesus your forever friend?
What do you think it will be like to live with Jesus forever?
Hands On
Journey Through the Bible
This week's Wonder Truth is "God Sent Jesus Because He Loves Us." This truth is a perfect way to begin conversations at home about God's love for us and how we can know and walk with Jesus!
Fold a sheet of paper into four sections. As a family, take a journey through the Bible using the passages listed below. After reading each passage, encourage your child to draw a picture in one section of the paper that represents what the passage means to her. As she draws, discuss the bolded questions together: What do these verses show us about God? What do they show us about ourselves? Follow the same steps for each of these:
1 John 4:7–12
John 3:16–17
Romans 8:14–17
John 1:9–12
After you've read and discussed these four passages, spend time praying together. Thank God for loving each of you and for sending Jesus so that you can be children of God and live with Him forever!
Interactive Prayer
Design a Parking Space
Take your family to an empty parking lot, such as at your church or a nearby school. (Ask for permission ahead of time.) Using sidewalk chalk, give each kid his own parking space and tell kids to create an art space of this week's Wonder Truth: God Sent Jesus Because He Loves Us. Parents can create a space too! After the spaces are decorated, gather in a circle as a family and offer a prayer to God, thanking Him for sending Jesus to love us.
If you can't get permission to decorate parking spaces, do the same activity on your driveway or in a paved area at a park.
In Early Childhood ministry, we teach basic biblical truths in ways little hearts can understand, from birth all the way through kindergarten. Our desire is to have children learn in fun and interesting ways how much God loves them. The video and resources on this page are designed for parents to experience this at home with their children.