Virtual Clubhouse Video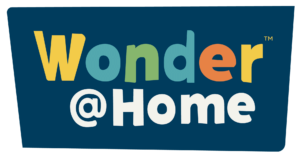 David writes in the book of Psalms about how God made us and knows everything about us.
Wonder Truth:
Jesus Loves Me
Scripture:
1 Peter 2
Word of Wonder
Work together this week on memorizing this verse!
God chose us to belong to Christ before the world was created… He loved us.

Ephesians 1:4 (NIRV)
Worship @ Home
Search for Be WonderFILLED Worship@Home playlist on Spotify for worship songs you can play anytime.
Family COnversation Starter
Families, use this to prompt conversations at the table, in the car, and anywhere else your family experiences life together.
How do you show love to each person in your family?
Who loves you? How do you know that person loves you?
How do you know God loves you?
Who do you know that needs to know the love of Jesus? How can you share the love of Jesus with that person?
Why do you think Jesus washed the disciples' feet? What do you think Jesus was trying to teach through the foot washing?
Hands On
Foot Washing
To help kids remember God's big story about Jesus washing the feet of the disciples, do your own foot washing! Gather a bowl or basin of water, a towel, a washcloth, and soap (optional). Take turns letting each person in the family sit with their feet in the basin while someone else washes the person's feet.
Say: In God's big story this week, we learned Jesus washed the disciples' feet as a demonstration of His love for them. Then Jesus told the disciples to go and do the same for others. He was showing how to love others through actions and serving them. When we wash each other's feet, we're following in the example of Jesus and showing love in action.
Ask each person to share how they felt when their feet were being washed, and also how they felt when washing someone else's feet.
Walk It, Act It, Move It
Loving Others in Action
Do this activity to help your kids remember Jesus loves us and we can share His love with others.
Say: In God's big story, Jesus washed the feet of the disciples. In Bible times, this was a very humble act of servanthood and love. People's feet got very dirty from their travels. Today, we don't always travel by foot, but we can follow the example of Jesus and show love to people around us too! What could we wash for someone who lives near us?
Allow your kids to respond. Brainstorm together a way your family could show love to a friend or neighbor by washing something—maybe a car or helping with a yard or cleaning project. Pray together and ask God to help you love others the way He loves them. Then do the act of kindness together and talk about how you're showing the love of Jesus as you serve them.
In Early Childhood ministry, we teach basic biblical truths in ways little hearts can understand, from birth all the way through kindergarten. Our desire is to have children learn in fun and interesting ways how much God loves them. The video and resources on this page are designed for parents to experience this at home with their children.