Virtual Clubhouse Video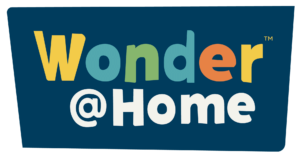 When two people seek Jesus for help, He shows He is powerful by healing a woman with bleeding and raising a girl from the dead.
Wonder Truth:
Jesus Is Powerful
Scripture:
Mark 5
Word of Wonder
Work together this week on memorizing this verse!
How great God is! We'll never completely understand him.

Job 36:26a (NIRV)
Worship @ Home
Listen to the Miracle! Early Childhood Spotify playlist for worship songs you can play anytime.
Family Conversation Starter
Families, use this to prompt conversations at the table, in the car, and anywhere else your family experiences life together.
What does it mean that Jesus is powerful?
How does it help our family to know that Jesus is powerful?
What might cause us to forget how powerful Jesus is?
What are some other examples from the Bible of times when Jesus showed His power?
Walk It Act It Move It
Flashlight Tag
Jesus is powerful! When we hear stories of Jesus showing His power, it encourages us and strengthens our faith.
To remember how Jesus shows His power, play a game of flashlight tag. Get flashlights for each person in your family. Wait until it is dark outside to play the game. Designate one person as "It." If It shines her light on someone else, that person becomes It. Play until you become tired or until every person has been It at least one time.
Hands On
Word of Wonder Poster
Make a poster together with the Word of Wonder on it. You can take turns writing one word at a time from Job 36:a or have one person do the writing. Use permanent marker for the writing and then invite your kids to paint it with watercolors. For a unique effect, sprinkle salt on the watercolor before it dries.
Put the poster somewhere your family will see it. Talk together about how great and powerful Jesus is. Practice saying Job 36:26a together once a day. At bedtime, focus prayers on thanking God for His power.
In Early Childhood ministry, we teach basic biblical truths in ways little hearts can understand, from birth all the way through kindergarten. Our desire is to have children learn in fun and interesting ways how much God loves them. The video and resources on this page are designed for parents to experience this at home with their children.