Virtual Clubhouse Video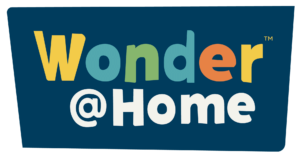 Jesus tells a storm to "be still" as a reminder to the disciples
and to us that Jesus has power over creation.
Wonder Truth:
Jesus Has Power Over Creation
Scripture:
Mark 4
Word of Wonder
Work together this week on memorizing this verse!
How great God is! We'll never completely understand him.

Job 36:26a (NIRV)
Worship @ Home
Listen to the Miracle! Early Childhood Spotify playlist for worship songs you can play anytime.
Family Conversation Starter
Families, use this to prompt conversations at the table, in the car, and anywhere else your family experiences life together.
Have you ever been in a big storm? What was it like?
If you could have power over something, what would it be?
Where do you need help from Jesus in your life?
How did Jesus respond to the disciples when they were scared? How
might Jesus feel about you when you're scared?
Walk It Act It Move It
"Who Is This?"
To play this fun guessing game, begin with five strips of paper per person. Write one name of a famous person or character on each slip. (Some ideas include authors, cartoon characters, and people in the Bible.) Place all the slips into a bowl. You can divide into teams or just play as a group who works together to guess.
Have a family member draw a slip of paper from the bowl. Give that person one minute to offer clues about what name is written on the paper to see if the rest can guess correctly. Keep score or just enjoy guessing.
After the game, discuss:
What did the disciples learn about Jesus the day He calmed the storm? What is something new about Jesus you've learned recently?
Hands On
The Boat Didn't Sink
Fill a clear cup with 8–12 ounces of warm water. Gather salt, a tablespoon measure, an egg, and a spoon.
While Jesus and His disciples were on a boat, a furious storm came up. The crashing waves threatened to sink the boat they were on! Place the egg inside the glass of water. It should sink.
The disciples woke Jesus and asked, "Don't you care if we drown?" Use the spoon to carefully lift the egg from the glass of water. Of course Jesus cared! What happened next in this part of God's big story? See if anyone in your family can answer or read Mark 4:39. Jesus was able to calm the storm and the boat remained on the water.
Sprinkle six tablespoons of salt into the glass. Thoroughly mix the salt into the water. Place the egg into the salty water. It should float on the surface. Discuss together:
How did the disciples feel after Jesus stopped the storm? What would you have said or done if you were there that day?
In Early Childhood ministry, we teach basic biblical truths in ways little hearts can understand, from birth all the way through kindergarten. Our desire is to have children learn in fun and interesting ways how much God loves them. The video and resources on this page are designed for parents to experience this at home with their children.