Virtual Clubhouse Video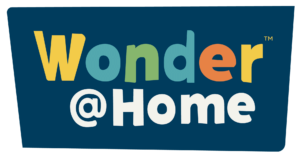 Jesus seeks out a tax collector named Zacchaeus and asks be a guest in his home. Zacchaeus welcomes Jesus into his home and the Zacchaeus is saved.
Wonder Truth:
I Can Follow God
Scripture:
Mark 5
Word of Wonder
Work together this week on memorizing this verse!
God so loved the world. He gave His one and only Son.

John 3:16 (NIRV)
Worship @ Home
Search for Be WonderFILLED Worship@Home playlist on Spotify for worship songs you can play anytime.
Family Conversation Starter
Families, use this to prompt conversations at the table, in the car, and anywhere else your family experiences life together.
Jesus saves us. What does that mean to you?
What do you love most in the whole world? How does it make you feel to know Jesus loves you even more than you love that!
Zacchaeus became generous after Jesus came into his life. What are some ways we can be generous with what we have?
Hands On
Cookie Drop
Invite your kids to bake cookies with you (or any other family-favorite treat)! The treat can be made from scratch or use store-bought dough—whichever you prefer.
As you bake, let your child(ren) know that you will be keeping half the cookies, but giving the other half away! Ask them to pick a family member, friend, or neighbor whom they would like to bless with this gift.
Tell them how much the cookies will be appreciated by whoever they give them to.
While the cookies are in the oven, consider reading Luke 19:1–10 as a family. Then talk together (read the bold print): Giving away half our cookies is a little like Zacchaeus giving away half of what he owned after Jesus saved him. Jesus seeks and saves us! That causes us to do big things!
When the cookies are done, wrap half of them up and deliver them to the person you chose. Let that person know you wanted to share cookies with him as a reminder that Jesus seeks and saves them too!
Interactive Prayer
Prayer Pals
It's time to be a pen pal! Jesus seeks out the lost, lonely, and hurting. By doing this activity, your family will be doing the same!
First, find some paper (or a premade card), an envelope, a few writing utensils, and any other favorite art supplies you have. Ask your child to think of someone she knows who is hurting, lonely, or in need of encouragement.
Decorate the front of the card and then, as a family, come up with a prayer that you can write on the inside. Along with the prayer inside, let the person know you see him and have been thinking of him.
Be sure to use his name in the beginning and sign all your names at the end. Try to find and include a Bible verse that will encourage this person as he walks through this season to know he is so loved and seen by Jesus. When you're finished, address the envelope, add a stamp, and let your child help you mail it.
In Early Childhood ministry, we teach basic biblical truths in ways little hearts can understand, from birth all the way through kindergarten. Our desire is to have children learn in fun and interesting ways how much God loves them. The video and resources on this page are designed for parents to experience this at home with their children.