Virtual Clubhouse Video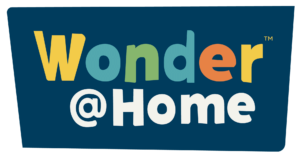 Jesus has a conversation with a Samaritan woman at a well and reveals that He is the Messiah, the chosen One sent to save all people.
Wonder Truth:
God Sent Jesus for Me
Scripture:
John 4
Word of Wonder
Work together this week on memorizing this verse!
God so loved the world. He gave His one and only Son.

John 3:16 (NIRV)
Worship @ Home
Search for Be WonderFILLED Worship@Home playlist on Spotify for worship songs you can play anytime.
Family Conversation Starter
Families, use this to prompt conversations at the table, in the car, and anywhere else your family experiences life together.
In God's big story, what did Jesus offer the woman at the well?
Who did the woman think Jesus was?
What did Jesus tell her about who He is?
How can we know more about who Jesus is?
Think about your life. Why do you need Jesus to save you?
Create It!
Coffee Filter Art
Before you begin, fill a spray bottle with water. Then, use washable markers to create a design on a coffee filter. Rather than coloring the whole filter, draw small designs or individual pictures instead.
Ask family members what they think Jesus meant when He offered the woman at the well some living water. As family members share, let them carefully spray their coffee filters with water. The colors on the coffee filter will begin to spread and blend.
End the activity by reflecting together on how the living water Jesus offers is eternal life. Jesus came to save us and makes a beautiful difference in our lives. Allow your art to dry and display it as a reminder this week that God sent Jesus to offer us living water.
Life Connection
Family Exercise
Water can be refreshing, especially when it's hot or we've been working hard.
Take time to have fun as a family and exercise. Consider doing jumping jacks, running outside, jumping rope, riding bikes, etc. The goal of this time is to exercise together, sweat a little, and make everyone desire a cold drink of water.
After a little bit, give everyone a cool refreshing cup of water to drink.
Ask family members to reflect on how good this water tastes and feels. But this amazing water can't come close to how awesome the living water that Jesus offered the woman at the well would be. Jesus told the woman, and us, that He offers something better than cool, refreshing water. Jesus offers eternal life because God sent Him to save us!
Explain that eternal life with God is something that only Jesus can give. Review the Word of Wonder, John 3:16–17. While drinking the cold water, challenge your family to praise God for sending Jesus to save us.
In Early Childhood ministry, we teach basic biblical truths in ways little hearts can understand, from birth all the way through kindergarten. Our desire is to have children learn in fun and interesting ways how much God loves them. The video and resources on this page are designed for parents to experience this at home with their children.