Virtual Clubhouse Video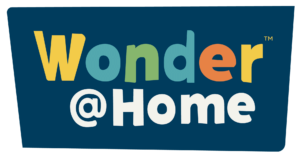 Jesus welcomes little children, taking them in His arms and blessing them.  He teaches that God's kingdom belongs to those who are like little children.
Wonder Truth:
God Loves Me
Scripture:
Mark 10
Word of Wonder
Work together this week on memorizing this verse!
God so loved the world. He gave His one and only Son.

John 3:16 (NIRV)
Worship @ Home
Search for Be WonderFILLED Worship@Home playlist on Spotify for worship songs you can play anytime.
Family Conversation Starter
Families, use this to prompt conversations at the table, in the car, and anywhere else your family experiences life together.
What did Jesus tell the disciples to do?
What did Jesus tell the disciples not to do?
How do you think the children felt after Jesus blessed them?
What would you have said or done if you were there that day?
What helps you to remember that Jesus loves you?
Create It!
Pack a Picnic
You will need: a blanket, food and drinks, large basket or box (optional)
Tell your kids that you're going on a picnic with Jesus. Pack a picnic together and head to the park or your backyard. Or you could find a cozy spot in your home. Resist the temptation to take additional activities with you. Rather, enjoy the conversation that arises during your picnic.
End your family picnic by praying together as a family and thanking God for all the ways that He loves us and blesses us. Take a family photo to capture your picnic!
Life Connection
Jesus Loves Us ABCs
To help kids realize just how much Jesus loves us and enjoys our company, play a game of naming different things Jesus gives us.
Begin with the letter "A" and continue through the entire alphabet by saying one way that Jesus loves us for each letter. For example, "Jesus us loves us by giving us Apple trees." The next family member would continue with the letter "B:" "Jesus loves us by giving us Blessings."
For an extra challenge, family members could remember and repeat all the answers that have been said before adding the next one. For example, "Jesus loves us by giving us Apple trees, Blessings, and Coffee."
As you play, remind your kids that Jesus wants to be with them too! In Mark 10, Jesus loved that the children wanted to visit with Him. Jesus wants to visit with your family anytime, anywhere, and for any reason!
In Early Childhood ministry, we teach basic biblical truths in ways little hearts can understand, from birth all the way through kindergarten. Our desire is to have children learn in fun and interesting ways how much God loves them. The video and resources on this page are designed for parents to experience this at home with their children.