Awana enrollment is closed for the Spring Semester. Registration will reopen on June 1, 2022 for the Awana 2022-2023 calendar year. Please revisit our website at that time to enroll.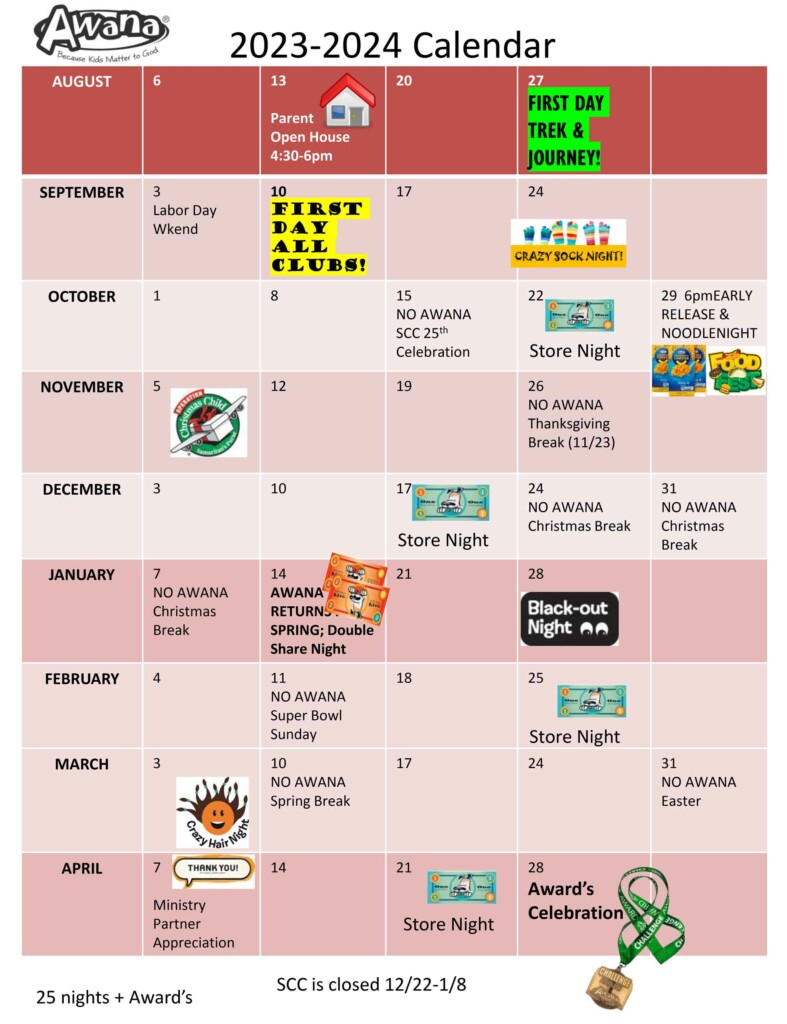 Schedule
The 2023-24 Stonebriar Awana year begins on September 10, 2023, and meets on campus most Sundays from 4:30 to 6:30 p.m. during the school year. The evening will include large group teaching and worship, small group time, and game time.
We have various special themed nights during the year, highlighted on the 2023-2024 calendar. You can download and print the calendar from the button below to reference throughout the year.
Fees
The Stonebriar Awana Registration fee ranges from $50-$60 per child and covers various activities including the Awana Store Nights where our Sparks, T&T, and Trek and Journey Clubbers spend their hard earned Awana Bucks on fun and exciting items, volunteer appreciation treats, patches and awards, financial scholarships and other special events. Your child will also need a vest or jersey and a handbook (no vest/jersey for Trek and Journey clubs). Details on what is needed are included on the registration.
Limited Enrollment Policy: Registration does not confirm your child's space on the roster. Children are placed first if a family member is serving in Awana and next by the number of volunteers and their date of registration. Parents will be notified by September 1 and will be refunded if not placed.
Refund Policy: Prior to August 30, 2023, all fees are refundable upon request. After September 1, the book and uniform fees are refundable, if the clubber has not attended an Awana meeting.
Need Help? If Awana participation fees will create a financial burden for your family, please contact the Awana office at 469-252-5530 or by e-mail at awana@stonebriar.org. We have a variety of options available to assist your family.
If you have not found the information you are looking for, reach out to Debi Kruder at awana@stonebriar.org or by calling 469-252-5530 with any questions.